EXPLORE THE 1943
NEW YORK CITY MARKET ANALYSIS
ABOUT 1940s NEW YORK
In 1943, 4 newspapers published a "NYC Market Analysis" with photos, maps, data & a profile about each NY neighborhood. Largely forgotten since, it offers a unique window into New York from another era. The CUNY Graduate Center has republished the profiles via this map.

More...
Colors correspond to local housing rents based on the 1940 Census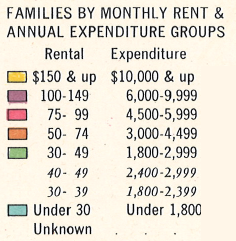 Legend
Copy the link below to share on Twitter, Facebook, your blog, email, etc:

Could not find . Try adding more information (city, state, or ZIP code) to find location .